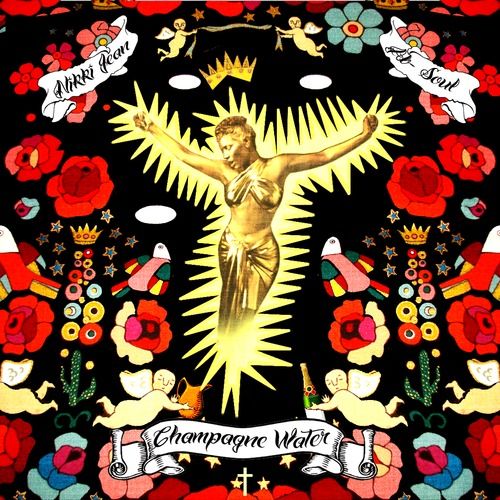 (Photo By NikkiJeanMusic.Com)
Champagne Water (iTunes)
Meet Nikki Jean, an American singer, who you know but don't know. Meaning you've heard her songs, you sang along, and you don't know her name. For most of us, we know Nikki Jean from Lupe Fiasco's "Hip-Hop Saved My Life" and Ab-Soul's "World Runners." But there are quite a few of you who know Nikki Jean from her debut album, Pennies in a Jar. On November 18, Nikki Jean released her new EP entitled Champagne Water. This EP is for fans of the likes of SZA, Jhene Aiko, and The Internet. Nikki Jean gives you a laid-back, angelic voice over some crafty beats. And did I mention the songwriting is great? Six songs is enough time for you to understand and fall in love with Champagne Water. Here's a quick synopsis of each song …
"Icarus Intro" F/ Kevin Olusola
The production brings you in with it's reminiscence of a pivotal moment in a movie. With Nikki comparing herself to Icarus (Google is your friend), this is actually a great way to start an EP/LP.
"Tommy's Song (Hands Up)"
With what's going on in Ferguson, "Tommy's Song" is Mike Brown, Trayvon Martin, and countless others' song. Nikki really shows you what she can do with a pen. Beautifully done.
"Rivers" F/ Donnie Trumpet & Double-O

This is what we like to call a vibe song. That means that you will remember only mellowing out to the beat and the catchy hook ("Rivers falling down my face."). Which could go either way depending on the person.
"Champagne Water" F/ Ab-Soul
The title track is my favorite track. The stories that Nikki Jean recites + the chorus + Ab-Soul at the end = Pure Prominence. And lets not forget the production, especially at the end.
"Worried… (Interlude)"
If I didn't know this was a Nikki Jean track, I would've automatically thought this was a Lykke Li song. The worst part about this song is that it's an interlude and not a full song. I'm sure if we beg, we can get the full track.
"Cool On You"
After you finally get over someone, send them this song. This is the type of song Corinne Bailey Rae would've wrote if she grew up on Chicago's Southside. The 'boy bye' style of lyrics over a smooth beat will get you every time.
Nikki Jean is releasing this EP at the right time. Just a handful of artists this year are putting out material worth a listen and she is one of them. Like I stated before, this EP isn't for everyone. So if you give artists like SZA and The Internet, side-eyes or don't even know who I'm talking about, you might want to skip this EP. I mean you shouldn't because it's dope but I understand if this style of music isn't your type. And by type I mean, good. So check out Champagne Water and let me know what you think. -Pooh Bailey